SANTA TECLA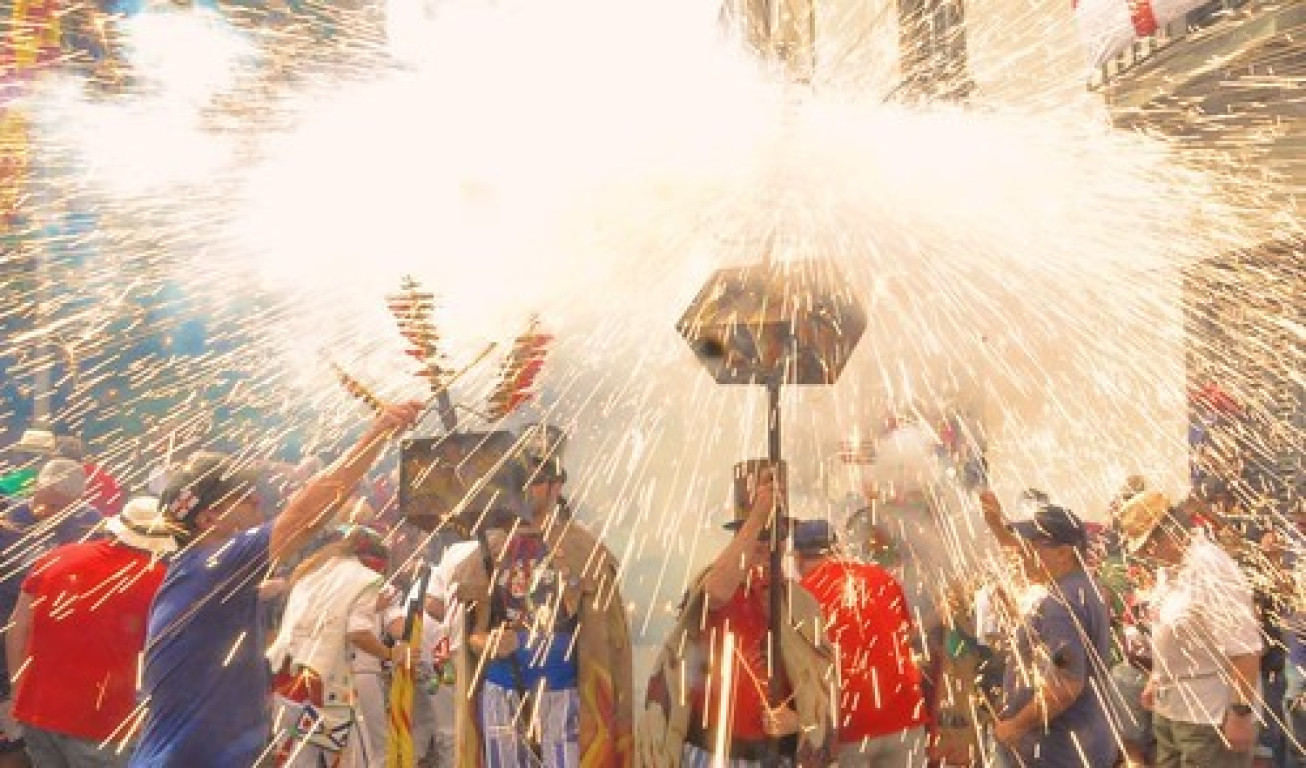 As you know, the patron saint of Sitges is Santa Tecla, and just like Sant Bartomeu, the patron saint celebrated in August, she was not to be outdone when it comes to the Festa Major in Sitges.
In September, specifically from September 15th to 23rd, we celebrate the Festa Major in honor of the patron saint.
It's called the "smaller" Feast, not only because it's not as extravagant as Sant Bartomeu's celebration, but also because the main protagonists are the children, with the "matinal" event, popular dances, and giant figures...
We have quite an extensive program of events where fire also plays a special role, from correfocs (fire runs) and fire beasts to a beautiful fireworks castle that we can admire from the beach at night.
We love the Fiestas Mayores of Sitges more than any other celebration. We enjoy seeing the entire town come together. The atmosphere is incredible, with many groups wearing custom t-shirts dedicated to this FM, excited children watching the cercavilas (parades) and correfocs, the fire beasts, ... It's a very pleasant week to spend in Sitges.
Here's a summary of this year's program: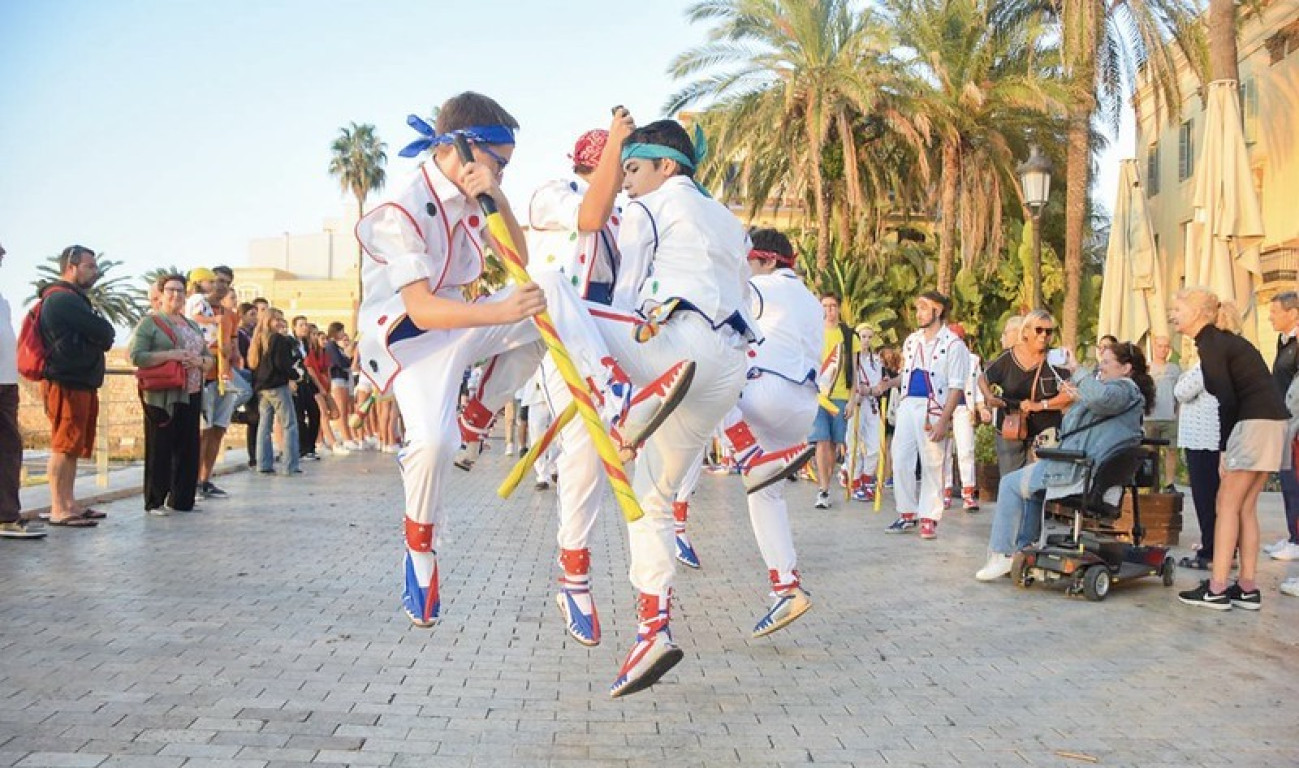 SANTA TECLA PROGRAM
FRIDAY, SEPTEMBER 15

6:00 PM Opening of the exhibition "From the Garage to the Street"
7:00 PM Opening of the exhibition "La Festa Major exposada en miniatura" (The Miniature Festa Major)
Night of the Pubilles i els Hereus

SATURDAY, SEPTEMBER 16

Exhibition of the Santa Tecla Banner
11:00 AM Meeting of giants, cabezuts (big heads), and small dragons
1:00 PM Exhibition of the 11th Instagram Fiesta Mayor Photo Contest
NIGHT OF FIRE
7:30 PM TIMBALADA
8:30 PM ESPETEGAFOC
9:30 PM CORREFOC
11:00 PM NIGHT OF FIRE CONCERTS

SUNDAY, SEPTEMBER 17

Exhibition of the Santa Tecla Banner
10:00 AM Gathering of giants, cabezuts, and children's dances
11:00 AM Exhibition of children's dances
5:30 PM Gathering of "dracs" (dragons) and children's devil groups

MONDAY, SEPTEMBER 18

6:00 PM to 9:00 PM Exhibition "From the Garage to the Street"

TUESDAY, SEPTEMBER 19

5:00 PM Children's party and dressing of the Gegants Moros
6:00 PM to 9:00 PM Exhibition "From the Garage to the Street"
8:00 PM Gralla and Gitanes d'Antes concert

WEDNESDAY, SEPTEMBER 20

6:00 PM to 9:00 PM Exhibition "From the Garage to the Street"
8:30 PM Transfer of the image of Santa Tecla

THURSDAY, SEPTEMBER 21

10:00 AM to 7:00 PM Exhibition of the image of Santa Tecla
6:00 PM to 9:00 PM Exhibition "From the Garage to the Street"
9:00 PM Special rehearsal (CASTELLS) of Santa Tecla

FRIDAY, SEPTEMBER 22

10:00 AM to 7:00 PM Exhibition of the image of Santa Tecla
2:00 PM Lighting of the 21 morterets (firecrackers) and bell ringing
7:00 PM Civic Procession – Following the tabernacle of Santa Tecla
11:00 PM Fireworks
12:00 AM Sardanista Dance
12:00 AM Santa Tecla Concerts

SATURDAY, SEPTEMBER 23 – FEAST OF SANTA TECLA, Diada Santa Tecla, protomartyr, Patroness of Sitges

JOYFUL CHILDREN'S MORNING
6:30 AM MORNING FIRE RUN
7:00 AM GRAND MORNING – GIANTS AND WHITE DANCES
8:00 AM SMALL MORNING
11:00 AM Solemn Concelebrated Service in honor of Santa Tecla
Procession after the Service
1:00 PM Castellera performance
1:00 PM Santa Tecla Vermouth Concert
6:00 PM Descent of the Pilar de la Jove de Sitges
7:00 PM Procession in honor of Santa Tecla
Final dance of the "Bèsties de foc" (Fire Beasts) (Drac and Àliga) and the Giants
11:00 PM Santa Tecla Concerts

SUNDAY, SEPTEMBER 24

12:00 AM to 7:00 PM Open Day at Museums
6:00 PM 33rd National Contest of Sardanist Groups "Trofeu 'Vila de Sitges'"
6:00 PM Santa Tecla Organ Concert
6:30 PM Castellera Exhibition of Santa Tecla
7:00 PM Holi Party